In the light of a defamation suit being filed by Vinay and Ajay Chaurasia against Pt Hariprasad Chaurasia and biographer Surjit Singh, the maestro's authorised biography is making more noise than music in the legal corridors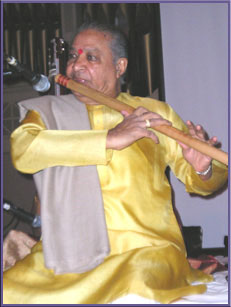 It certainly wasn't music to the ears when news spreed of a defamation suit being filed by sons Vinay and Ajay against Pt Hariprasad Chaurasia and his biographer, surjit Singh.While Pt Hariprasad Chaurasia wasn't available for comments, CT got in touch with son Vinay, biographer Surjit and their advocates to voice their side of the case.
ARINDAM BANERJEE
ADVOCATE REPRESENTING THE BIOGRAPHER,
PUBLESHER AND PRINTER OF WOODWINDS OF CHANGE

On Wednesday, the Bombay High Court has refused the parmanent injunction restraining the respondents from publishing further copies of Woodwinds of Change. The Honorable court has also heard all parties and after that was pleased to pass an order rejecting the ad-interim order. Surjit Singh has written an authorised biography. Whatever Pt Hariprasad Chaurasia or his wife, Anuradha 'Angurbala' Chaurasia has stated on record has been published in the authorised biography. Substantial certificates and evidences support this claim. The honorable court has directed submission of what has been pleaded before the court on behalf of Panditji and Surjit Singh within six weeks. Angurbala Chaurasia got married to Panditji on August 15, 1958 at a secret ceremony at the katak Chandi Mandir. No one was informed about the wedding. Never has it been denied in any part of the biography or anywhere known to Panditji or Surjit that Kamala Chaurasie is not his leggally wedded wife. Panditji has braught up all three sons together since childhood.
MAHESH MENON
ADVOCATE REPRESENTING VINAY CHAURASIA AND AJAY CHAURASIA
The suite has been filed for a declaration that the marriage of Pt Hariprasad Chaurasia with Vinay and Ajay's mother-Kamala Chaurasia- was prior to Panditji's marriage with Anuradha. Whereas Uma Vasudev's biography of Panditji says that his marriage with kamala Chaurasia was his first, Surjit's biography gives a different picture. It gives a wrong impression of Vinay and Ajay being illegitimate children of Panditji since begami is not allowed under the Hindu law. Vinay and Ajay had filed a suit claiming a token compensation of damages to the tune of Rs 1 lac and also an injunction restraining publication of Surjit's biography in any other language of form. Incidentally, in june 2009, Panditji had rejistered his marriage with Anuradha after he had received a notice from Vinay and Ajay regarding representation of facts in Surjit's biography. Though the ad-interim order has not been granted in this case, the suit will continue and the Honorable Court will deside the issues pertaining to marriage at the time of trial.We will be filing an appeal in the Appelate Bench of the High Court. We have also filed a separate complaint for defamation against Panditji, the biographer and the publisher under section 500 read with section 499 of the IPC at the metropolitan Magistrate's Court in Andheri.That case hasn't been heard yet.
VINAY CHAURASIA
SON OF PT HARIPRASAD CHAURASIA AND KAMALA CHAURASIA
My father's first biography by Uma Vasudev, Romance of the Bamboo Reed, was released when he turned 60. Though I was not interviewed for it, I have no regrets. I failed to fathom the need for penning the second biography. But even then, I consented to talk to Surjit where in he asked me questions about my childhood. While Woodwinds of Change was released in july 2008, I got hold of the copy only in february 2009. I was shocked by its content and initially, didn't even have the caurage to speak out. Of course I have tried to reach my father to talk about this but he never had time. We haven't been on talking terms for two years now. He might be a celebrity to the world but for me, he is a regular father. I am deeply hurt. I have never introduced myself as his son. If people know it, its fine. When Ajay and I were young, we were totally dependent on him. We couldn't choose our family. But now, I am 50 and fighting for my dignity. He married my mother in 1957 and I was born in Cuttack in 1959. But the second biography makes it seem like he married my mother after his marriage to Anuradhe Chaurasie. Does celebrity status make a person so big that he has the power to change his past? My mother is no more and my father must come clean.