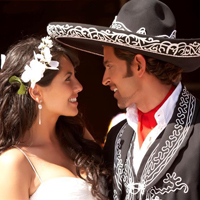 Just a half an hour wait, which no one seemed to mind and they were right there. No starring airs, no throwing the weight arround. Hrithik Roshan and Barbara Mori ara headturners ion their own right and took the breath away of thousands gathered outside a Salt Lake multiplex. To win hearts, all they needed were a wave here and a smile there. Having obiged the scremming fans and flashbulbs, they stepped into the auditorium where the press conference was organised. Talking about the poor reviews that his latest has received. Hrithik said, I should try and explore different things all the time. The other day, someone asked me whether I'll again get back to doing typical films, to which I said that I am proud of not doing a typical film. if you like watching films, then watch Anurag's films. If you like food then try something different, say pasta," Hrithik chimed in.
Giving credit to co-star Barbara, he said," The film wouldn't have been possibe without Barbaragiving a nod. She is an honest and dedicated actor. To top it all, She likes pasta."
Barbara too couldn't stop waxing eloquent when it was her turn to address the audience, "Hrithik is the best actor to work with-cracking jokes and carring for me on the sets. I wish to do more movies with him and the unit. I was never watched any Hindi film prior to this, but once I was signed on for the project, I started doing my homework. I wathed a lot of Hindi films and found that girls ooked so beautiful and danced so well! I'd love to become a part of another Bollywood project in future. IfI have to start learnind dance for that, then I'll do it. When asked whether she was offered Anurag's next, the Maxican beauty looked at the director to seek his permission before saying, "Yes, Anurag did offer me his next and i'm currently considering it."